Alarm.com Emergency Call Button
w/ 319.5 MHz Transmitter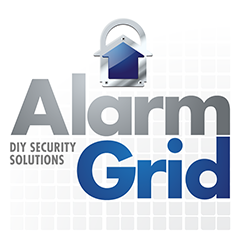 The Alarm.com Emergency Call Button is perfect for use in areas where a slip and fall is likely to occur, such as by the stairs or the shower. It offers quick way for your loved one to call for help. This is the legacy Interlogix 319.5 MHz model. Buy the Alarm.com Emergency Call Button here.
Description
The Alarm.com Emergency Call Button offers a fast and easy way for your elderly or mobility challenged loved one to call for help in case of a slip and fall. The sensor is usually placed or hard-mounted by a high-risk area, like the stairs or bathtub. This model has a 319.5 MHz Transmitter.
Having a hard-mounted dedicated emergency medical button can be a good compromise to having a wearable medical alert button. Some users may feel apprehensive about having a button on their person at all times, and this can become a nice alternative. If the user is really only at-risk for falling in certain areas, then this can work quite well. The big red button will remain in a fixed area, and it will be there just in case. To activate, simply press and hold the button for one full second. Upon activation, an audible message will confirm.
When choosing a Sensor Group for this device, you will want to select either Group 4 - 24 Hour Auxiliary Panic (Emergency) or Group 40 - Trouble Beeps Only (Non-Emergency). If you use Group 4, then this will trigger an auxiliary medical alarm on your system. Assuming you have central station monitoring service, the operator will know to request emergency help immediately. But using Group 40 can still be useful, as you can get alerts from Alarm.com regarding any sensor activity. Another option if you don't want an emergency response is to just turn off alarm reporting for the zone.
Mounting hardware for the call button comes included, but it is optional. The entire button measures in at 4.75 inches in diameter and 2.25 inches deep. The sensor has an ABS plastic construction and slip-resistant feet at the bottom. For power, the sensor relies on three (3) AAA batteries. Expected battery life is two (2) years. The sensor should be used within 100 feet of the alarm system to ensure successful signal transmission.
Specifications
Sensor Type: Emergency Call Button
Wireless Frequency: 319.5 MHz
Wireless Range: 100 Feet
Sensing Interface: Filtered, Normally Open (when not pressed), Momentary Contact Switch
Dimensions: 4.75" Diameter x 2.25" Deep
Construction: ABS Plastic Base w/ Slip-Resistant Feet
Hard-Mounting: Optional
Batteries: Three (3) AAA Batteries
Battery Life: Expected Two (2) Years
Brand: Alarm.com
Qolsys IQ Panel Telefonica
7" Security Panel w/ Z-Wave, Telefonica Cell Communicator
List Price: $724.00
Our Price: $470.99
Qolsys IQ Panel 2 Plus 319.5 MHz Verizon-LTE 3-1 Kit
Wireless Alarm System, 3 Door/Window Sensors & 1 Motion Sensor
List Price: $880.00
Our Price: $397.99
Qolsys IQ Panel 2 Plus 319.5 MHz Verizon-LTE 10-1 Kit
Alarm System Kit w/ 10 Door/Window Sensor & 1 Motion
List Price: $900.00
Our Price: $474.99
* Based on a 10% APR with 12 months financing. APR's will vary between 10% - 30% based on credit score and various factors.