The Perfect Alarm Company for Those Social Distancing in the Era of Coronavirus
Posted By
Joshua Unseth
Alarm Grid isn't your traditional alarm company. We're a little bit different. We're a young company built in the modern age. We use the same old technology, but we use things like YouTube and online content to teach you how to use it. Most companies obscure how these systems work. They will hide codes from you. They'll have provisions in their contracts that let them take the system back when you leave them. At Alarm Grid, we believe you own your system; you own your codes. We give you the tools to take full control of the security you so desperately want for your family. Oh! I almost forgot. We don't have contracts.
We think that we just do things better here. We rely on high quality service. Our team is incredibly knowledgeable. They know these security systems in and out. But now, as everyone is sitting at home on their sofa's trying to figure out how to fill their time, there is even more reason to work with us.
There is no better time than now to secure your home and family.
Alarm Grid Doesn't Send Anyone to Your Home
When you get an alarm system, most people expect someone to show up to their home and put it on the wall. Not Alarm Grid! To date, Alarm Grid has been for the enterprising do-it-yourselfer. But in the age of coronavirus, we're really the best way for you to keep your quarantine, socially distance, and get the protection your family needs in a unpredictable world.
Our process is simple:
If you have a security system, you can just sign up and give us all the system information we need. We can help you find that information if you need to. But we can monitor most systems.
If you need a security system, you can find a whole bunch of different systems that you can install in your own home. Pick your system, and watch our installation video on that system. Once we ship you the system and it arrives, you'll be able to get it up in an hour or two. It's fun, easy, and perfectly safe. Program the sensors to it. Voilla, you have a brand new, professional security system installed by you.
Our Systems are the Same Systems ADT and Other Big Name Brands Install
Notice I said "professional security system" above. We don't sell janky or cheap systems. We sell top of the line security systems. Our systems are used in millions of restaurants, businesses, and homes all over America. That's right, millions of people have the systems we sell. They are the same systems that an installer would put in if you ordered from one of the big names in the industry. So you don't have to worry about the quality of these security systems. Your family will be as safe as ever.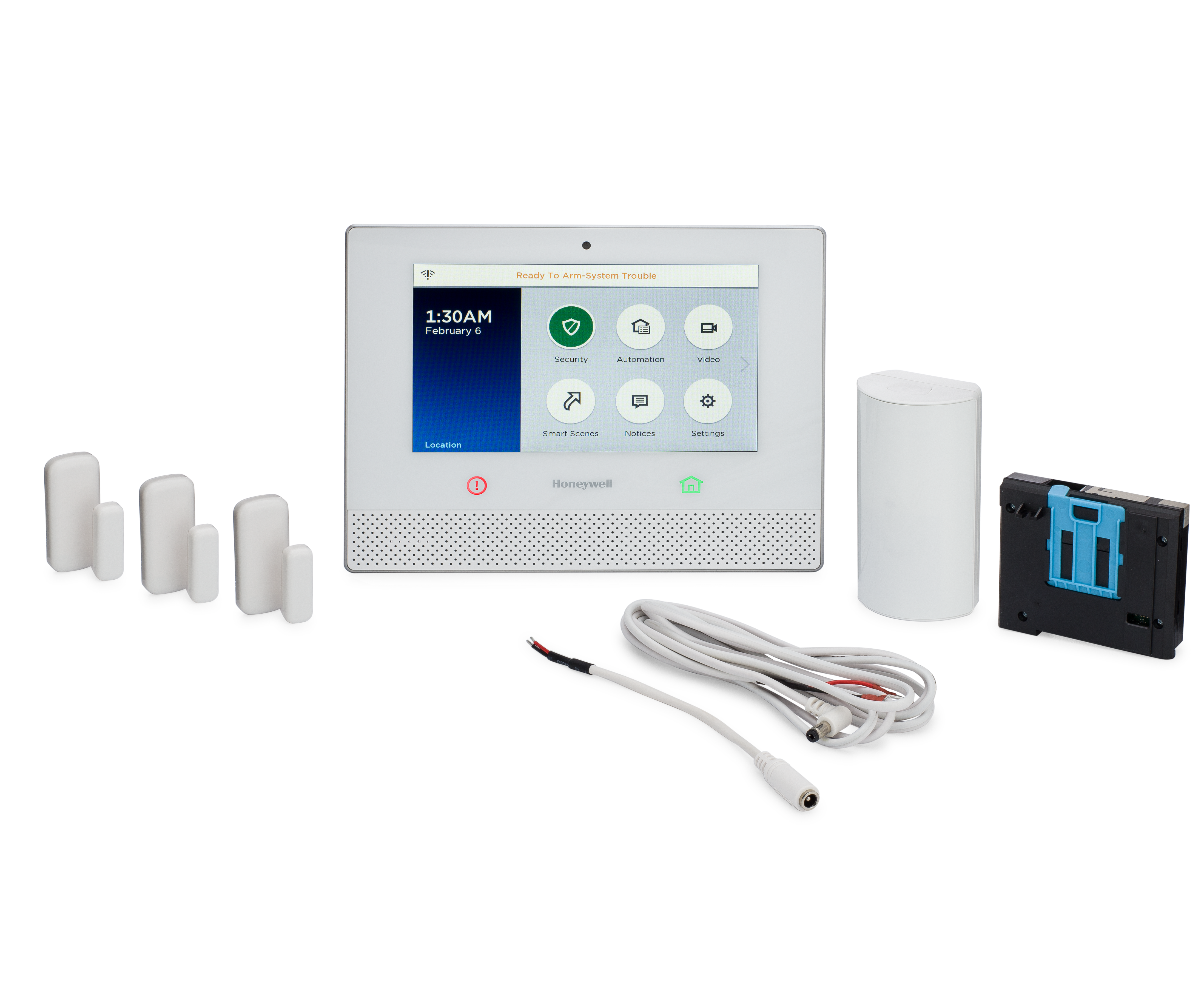 While we have lots and lots of choices available, our two favorite systems are the Qolsys IQ Panel Plus and the Honeywell Lyric. Read about the differences, if you are trying to decide between these two incredible systems.
The biggest difference between these two systems is that the Honeywell Lyric is compatible with Apple's HomeKit. The Qolsys is not compatible with HomeKit. However, both work excellently as Z-Wave home automation controllers. Both systems can be controlled from a phone or computer. The Qolsys is compatible with Alarm.com's interactive services. Honeywell's Lyric is compatible with Total Connect. Both Alarm.com and Total Connect allow for remote management of your system. Finally, the Lyric's communicator is removable. The Qolsys's communicator is built in.
Old alarm systems used a phone line to send signals. This means that when someone broke into a home, the system would make a literal phone call, and deliver information to the central station. The central station would then call the police and give the dispatch information for checking on your property.
Phone lines are notoriously insecure. For the enterprising thief, in order to disable the alarm system, they would simply cut your home's telephone wire. But the bigger problem came as phone systems modernized. We moved from analog copper phone wires to digital phones and, many times, digital switching. This causes phone calls to be less clean and pure than they used to be. Signals from these devices can become problematic for central stations.
Modern security systems no longer send signals through the phone. Rather they use an IP connection and a cellular back up. IP suffers from some of the same security concerns as the old phone lines. Someone can cut an IP system's line. But, when coupled with the cell signal, modern security systems are both cheaper and more secure than the old analog systems. Oh, and they're far less complicated as well. As computers have advanced, they have progressed from old wired systems with wonky keypads to new beautiful systems with excellent user interfaces. And that's where we come in. We help you learn how to select, buy, and install your system.
If that sounds appealing to you, call us today!
855-945-1433
If you're still intimidated though, perhaps it will help you to know that you can...
See Everything You Need to Do for a DIY Installation by Watching a Step-by-Step Video
Don't get too intimidated. The secret of the alarm industry is that installing these devices is really easy. We have videos of everything, including installation.
If you dislike video, we have lots of written FAQs. And if you dislike those, you can call us. We can teach you to install the system, learn sensors into the system, and we can give you an overview of how the system works all over the phone.

Whatever the case, if you're at home, trying to figure out what you're going to do for the next few months, consider checking "Get a Security System" off of your bucket list. And do it all without breaking your quarantine or social distancing rules.
We Have No Contracts
Alarm Grid is a month to month service. You can cancel any time. We basically invented the concept of no contract alarm monitoring. Traditional companies usually require that you sign a 3 year deal. You'll pay a lot more than we charge. And the service they give you will cost more every time they do what's called, "roll a truck." That's industry speak for "sending someone to your house to fix a small problem." And the problem with that is, you don't know the repairman from Adam. You never know who you're going to get... if you know what I mean...
The truth is, we've rarely had to roll a truck. Our goals is to not send someone out ever. This Coronavirus thing doesn't changed anything for us. We have been doing this for years. Most fixes to your security system take mere minutes. And almost never are any of the fixes a system needs so difficult that you won't be able to do it on your own. If you don't believe it, check out our reviews.
These reviews are real. We don't hide them, we don't suppress them. They are all verifiable, real customers of Alarm Grid's. But remember, behind the no contracts, and no strings attached thing is an implicit promise we have to our customers. If you hate us, you can leave us. Because we aren't making proprietary systems, because we're helping you install professional systems, because we want you to be our customer for a long time, we have to be great to you. We have to help you from beginning to end. We have to work you through problems you encounter in the installation. If we don't, you can leave the very next month. We promise you!
Your experience is all we care about. So while you're sitting at home, bored off your fanny, give us a call. Let us help you get a brand new security system or take over your existing one. You won't regret it. In fact, you'll probably love it. And if you have kids, it's so easy, you can probably just make them do it. Maybe they'll learn something. We'll call it homeschooling... in the subject of "computer science" or something. Whatever the case, we'll work with you.
Call us today, and see how different we are.
855-945-1433
Tags:
Marketing, Qolsys IQ Panel 2 Plus 345 MHz Verizon-LTE 3-1 System Kit, Honeywell Lyric Verizon-LTE 3-1 Kit